Transportation, Meals, & Hotel
Transportation
The conference is located at the Baldwin Wallace University Conservatory of Music in Berea, OH.
Boesel Musical Arts Center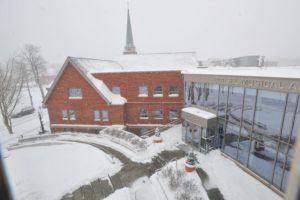 49 Seminary St
Berea, OH 44017
The nearest airport is the Cleveland Hopkins International Airport (CLE).
The conference begins with opening registration at approximately 3:00pm on Friday, January 13. The closing session finishes at approximately 5:00pm on Sunday, January 15.
Meals/Dining
Attendees are responsible for their own meals during the conference, and there are a variety of options available near the conference site.
All dining options listed below are within 2 minutes (walking) of the Conservatory
Cornerstone Brewery (American Fare)
Dave's Cosmic Subs
Starbucks
Sweet Mango (Thai)
Mikes Bar and Grille (American Fare)
Campus Grill (Cuban)
In addition, Giant Eagle, a regional grocery store is located within walking distance of the Conservatory (roughly 3 minutes).