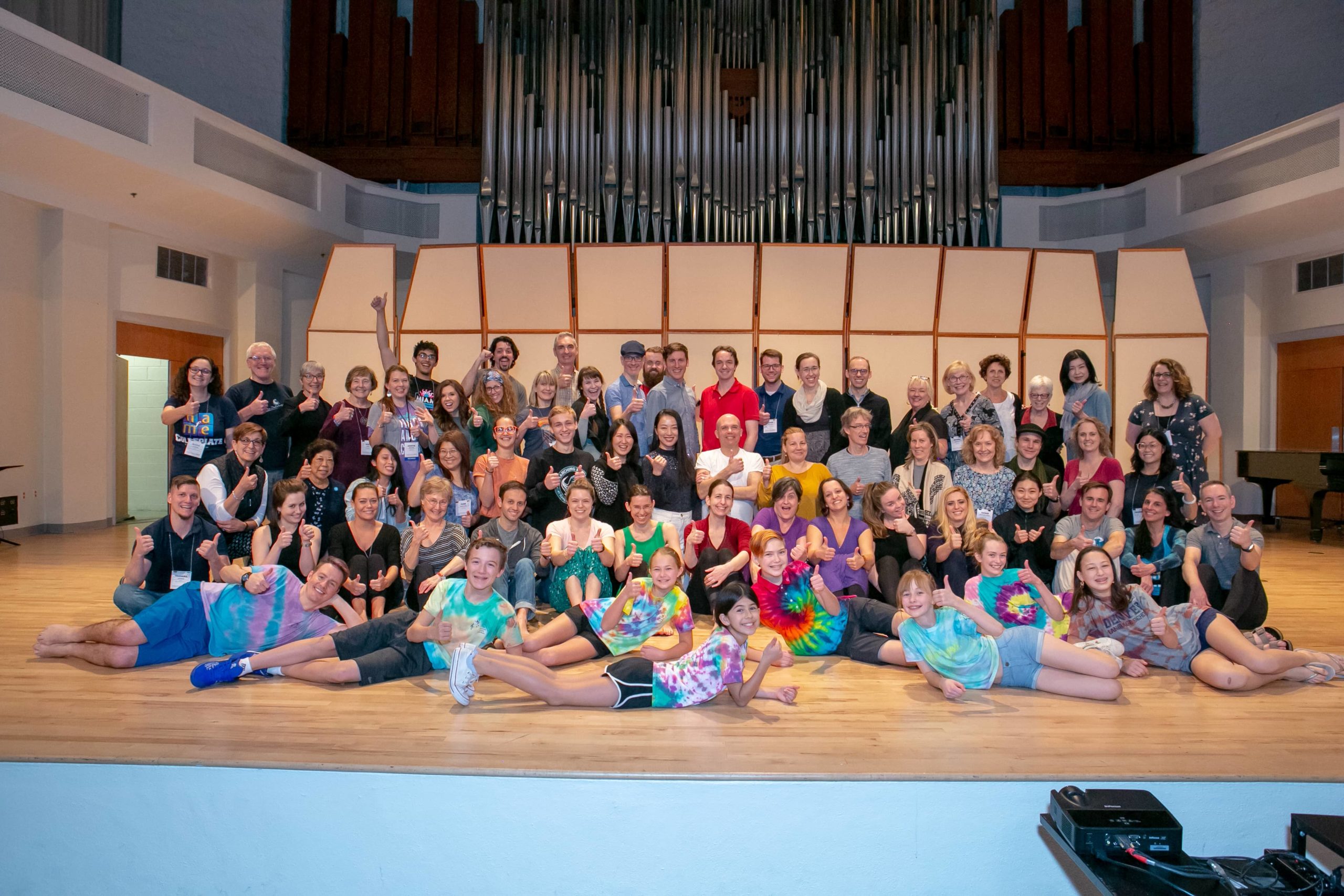 Conference Session Descriptions
Read a preview of the upcoming presentations at the conference. (Subject to change.)
Moving in Beauty
Ruth Alperson
Moving with music of Johannes Brahms, we will explore Dalcroze subjects including phrase, measure shape, and hemiola.  We will delve into the rich melodic and harmonic landscape of the Andante movement of the Brahms Double Concerto for Violin and Cello, Op. 102, together.
Improviser/Mover Interactions
Ruth Alperson
Improvising for a person's movement is a unique and central feature of Dalcroze teaching. Elements in the music include tempo, articulation, weight, energy—and character. When the music accurately describes the movement, the mover feels this affirming non-verbal communication by the improviser: "I am watching you; I see you." This workshop will focus on improvising at the piano, while observing a mover.
Teaching Children: Intensive Eurhythmics with Piano and Violin
Adriana Ausch
Dalcroze Eurhythmics for kids is multi-layered and solid musical training preparing the development of the connection between the musical mind, the musical ear, and the musical body. It works the best when it is applied to an instrument. This presentation highlights the way in which a comprehensive program of Dalcroze Eurhythmics for children could integrate with the introduction to instrumental playing. The program was created at the Preparatory Department of the Longy School of Music in 2005 as the "Junior Dalcroze Program" and continued at the Winchester Music School until 2020 as "Intensive Eurhythmics with Piano and Violin."
Meter of 5
Aaron Butler
Why is music written in 5 so rare? What makes it challenging? This eurhythmics class will combine small and large group exercises moving, counting, "not-counting," conducting, and singing. Our goal: bring all 5 beats together into a measure just as intuitive as 4 and 3.
Applying Dalcroze Education in New Structures
Guy Mendilow, Stephen Neely, Dawn Pratson, & Emma Shubin
How does Dalcroze Education build community, foster relationships, and bring participants together? Presenters will share examples of Dalcrozian programs within organizations whose missions are not exclusively focused on musicianship or teaching skills. All are welcome to join the discussion.
How Eurhythmics Can Bring Our Diverse Schools Together
Patrick Cerria
American public schools are extraordinarily diverse: culturally, socially, emotionally, economically, and developmentally. I believe Eurhythmics is the perfect method to help all teachers bring these populations together.
Playing in the Modes
Katie Couch
Held in the keyboard lab, this session will show active participants (who can have limited keyboard skills) how to improvise fluidly in some of the most common church modes. This session aims to give participants an accessible framework for learning to create images using these modes. Because this session is to be held in the keyboard lab, participants have the opportunity to play for the duration of the class, rather than turn-taking. Use of modern keyboard lab technology will allow the presenter to pair keyboards together for a socially-interactive experience—together!
Grooving in Groupings
Katie Couch
Discover and practice the different groupings of twelve pulses. In this session, participants will experience both the pulses and the durations associated with the groupings in a variety of ways, including gross motor movement, improvisation, and group work, culminating in a canon.
The Eurhythmic Conductor: Applications to Analysis, Gesture, and Rehearsal
Caron Daley
Émile Jaques-Dalcroze described the conductor as the "archetypal eurhythmician," or the figure best able to demonstrate eurhythmic principles. This session will explore how Dalcroze Eurhythmics can inform the conductor's score study, gestural vocabulary, and rehearsal techniques. Participants will be invited to conduct along using examples from a wide range of repertoire.
Exploring Minor Tonalities: Take A Walk on the Dark Side
Jeremy Dittus
The embodiment of pitch through Dalcroze Solfège gives us purposeful ways of understanding and communicating the distinct color palates within minor tonalities. In this session, we will play with the different forms of minor scales and explore some of the unique melodic/harmonic attributes within these structures. We will also survey folk and instrumental repertoire for various age groups and levels of study that showcase the warm, dark tones of the minor mode.
The Artistic Pedagogy of Plastique Animée
Jeremy Dittus
In Eurhythmics, Art, and Education, Dalcroze states: "All Plastique education, therefore, should aim especially at the arousing of natural instincts, spontaneity, individual conceptions. The final culmination of studies in moving plastic is certainly the direct expression of aesthetic feelings and emotions without the aid of music or even speech." (28-29). As a performance art, Plastique Animée affords us a way of addressing the performance aspects of Dalcroze Education. Still, many of us are left with questions: What is Plastique Animée? What does it offer? Why do we do it? Who benefits from it? How do we do it? In this discussion-oriented session, we'll address these questions through demonstration of several recorded performances of Plastique Animée with Dalcroze beginners through advanced performers.
DEI and the DSA — Let's Talk
Dawn Pratson, Melissa Tucker, Marlene Yeni-Maitland
Bring your lunch and participate in a casual discussion with the DSA Diversity, Equity, and Inclusion Committee.
Together Across Time: Dalcroze Collections at The Ohio State University
Mara Frazier
The Jerome Lawrence and Robert E. Lee Theatre Research Institute at Ohio State holds a treasure trove of research information on Dalcroze. After a brief overview of Ohio State's Dalcroze collections, Mara Frazier will present highlights from the collections as well as information about how to access materials.
Keynote Address: So Who Are We?
Mary Dobrea-Grindahl
Émile Jaques-Dalcroze said, "We cannot teach what we wish; we cannot teach what we know; we can only teach who we are." Together!, let's explore the idea of who we are, and, perhaps more importantly, who we—the present and future members of the DSA—want to be. I look forward to sharing some ideas with you and hearing from you during this session as the 2023 DSA National Conference gets underway. Let's be together, work together, and play together!
Eurhythmics Deconstructed
Mary Dobrea-Grindahl
What makes eurhythmics…eurhythmics? What are the principles and strategies we as Dalcroze teachers use in classes that make our work more than just "music and movement?" This session explores the answers to those questions. Attendees will participate in a Eurhythmics class, and along the way, learn about the strategies and philosophy behind each exercise as we delve into the world of Dalcroze pedagogy.
In the Groove: Syncopation as Complex Meter
Mary Dobrea-Grindahl, Lauren Hodgson, Jeremy Dittus
In the final session of the 2022 DSA National Conference, Keynote Presenter Mary Dobrea-Grindhal leads a session along with fellow BW faculty Lauren Hodgson, and former BW faculty, Jeremy Dittus in a dynamic group teaching experience that will explore syncopation through the lens of complex meter. We conclude our time together with the ideas of Émile Jaques-Dalcroze himself:
Music is always with us. Let us open ourselves to it; we have relinquished to it the ardent expression of our inner life, let us yield to its demands, deliver up to it without reserve the whole rhythm of our bodies, to be transfigured and emerge in the aesthetic world of light and shade, forms and colors, controlled and animated by its creative breath.
Phrase, Meter, & Transformation
Eiko Ishizuka
Have you ever wondered how Eurhythmics subjects can be taught in nonclassical repertoire, such as pop music by Coldplay or Taylor Swift? Come and experience a variety of ways of looking at repertoire to understand the feeling of the music. We will explore how changing note groups create metric events.
The Both/And of Jazz
Michael Joviala
Many "poly" subjects (e.g. polyrhythm, polymeter, polytonality) are not only Dalcroze favorites, but form the backbone of much of the jazz tradition. In the Dalcroze classroom, these subjects are often explored as oppositions: 6/8 vs. 3/4 for example, or four against three. However, jazz leans more toward "both/and" rather than "either/or". Like many other grooved-based kinds of music, jazz doesn't just accommodate an individual's unique sense of rhythmic flow, it hinges on the juxtaposition of opposing points of view to achieve its maximum expressive power.
This "both/and" approach to group improvisation gives the music a social relevance and resonance that can help guide us as we redefine what the word "together" can mean both in and out of the classroom. Bring your spirit of play, and see you on the bandstand! Bring your spirit of play, and see you on the bandstand!
Like Old Times: Measure Shape
Cynthia Lilley
Phrasing—how we use it, experience it, and teach it—is at the heart of the Dalcroze approach.  This session will focus particularly on the concept of measure shape and phrasing, working with a song from the forties and culminating in a piece by Johannes Brahms.
Experiential Solfège for Elementary Classrooms
Anthony Molinaro
How can elementary solfège be presented through physical experience? How can principles of Dalcroze Solfège apply to a public school solfege curriculum? Anthony Molinaro presents a series of lessons that allow students to embody and connect to solfège in powerful ways and apply what they have learned to repertoire.
Time-Space-Energy in Piano Technique and Improvisations
Fumi Nakayama
Expressive piano improvisation is essential. Join us in exploring whole-body movement and tactile exercises that will improve both piano technique and improvisation skills. Together we will improvise based on different images and generate simple but effective improvisation ideas. Participants will be invited to share a short piece from their repertoire to compare playing in the old and new way (optional).
Dalcroze for Teenagers!
Stephen Neely
What are some attentions and techniques that speak to the teenage crowd? How do we make these relationships and present these lessons in ways that keep the young adults engaged, supported, and challenged? What are some fun sources for content that the high school age crowd can offer to the teacher? Join Stephen Neely in a workshop/discussion centered on the teenage student and the ways that the Jaques-Dalcroze methods can engender buy-in, creativity, and community building with this most-special age of students. 
Beyond Major and Minor
Gregory Ristow
Combining Dalcroze's trichords in symmetrical ways opens pathways to hearing, improvising and harmonizing in near-tonal pitch spaces, including octatonic and hexatonic collections. We'll stretch our sense of what tonality is by letting the push and pull of half steps lead us to create rich harmonic progressions and improvise within them.
Counterpoint, Clave, and Afro-Centric Music: A hands-on workshop for 21st-century musicians
Josh Ryan
In this interactive session, Josh Ryan will give participants a guided tour of some of the fundamental rhythmic and musical concepts of Afro-Centric music. Notions of strong/weak beat, the structure of a rhythmic phrase, and the organization of syncopation will be discussed and experienced directly. Attendees will play some of this rhythmic vocabulary and have a few examples to take with them.
Somatic Musicality
Danica Schofer
Danica Schofer shares findings in exploring somatic music-making in the dancing body. The presentation will begin by sharing "Rainstorm," an interdisciplinary project exploring music/dance relational pairings. Danica will then discuss Dalcroze-inspired ballet exercises as an avenue for technical/expressive possibilities. Attendees will participate in simplified group-work exploring mindfulness techniques from the exercises.
Criticism Becomes Inspiration: An Introduction to CRP
Sarah Schreffler
Discover the possibilities for integrating Critical Response Process (CRP) into Dalcroze Education and methodology. After an introduction to CRP and a short demonstration of the core principles in action, join in small and large group discussion and brainstorming.
En Chant Ensemble
John R. Stevenson
This session is designed to experience the human voice in ensemble singing. We will explore the art of the duet and trio and the two- and three-voice canon. With the goal to perform together with one voice, we will investigate vocal improvisation freestyle and with given rhythm phrases.
Moving, Singing, & Presenting Together
John R. Stevenson
Work together with music/movement in groups small and large in an experience in space. We will explore the concepts of time-space-energy through rhythm complement and rhythm counterpoint physically, vocally, and instrumentally. Improvised choreographies are the chief intention of the session.
The Cleveland Institute of Music Eurhythmics Curriculum
Brian Sweigart & Sonia Hu
The Cleveland Institute of Music has a long and rich history of eurhythmics as a core component of the education of some of the world's most talented classical music students. In this presentation, CIM's eurhythmics faculty will discuss the history and demonstrate portions of the curriculum with current CIM students.
Bringing Sounds Together: Creating Contemporary Harmonies
Melissa Tucker
Have you ever wondered how contemporary harmonies are created? Using chords, and chord shapes, based on various intervals and combinations of intervals, this class will build harmonic structures from which to improvise original piano pieces. Explore tension and release, organic melodies, and more in this hands-on workshop bringing sounds together in new ways.
Engaging Different Types of Audiences
Leslie Upchurch
This session will address varied groups and settings where typical Dalcroze activities may need some adjustments to be successful. There are many opportunities to bring people together through music and movement activities without the perfect facilities or space. Teacher workshops for non music teachers is one such opportunity. Bringing people together using the Dalcroze work benefits both our students and the growth of Dalcroze overall.
Delsarte Zones of the Body
Joe Williams
The movement work of François Delsarte (1811–1871) is known to have intersected with and influenced in some way the work of Émile Jaques-Dalcroze. In this workshop, we'll look at some of the primary zones of the body, their expression of the human trinity, mind-body-spirit, and how they support a moving musicality.
The 2023 Conference will welcome 29 presenters from the United States and around the world to share their experience and knowledge with attendees.
Presenters
Adriana Ausch-Simmel
*Ruth Alperson
Aaron Butler
Patrick Cerria
Katie Couch
Caron Daley
*Jeremy Dittus
*Mary Dobrea-Grindahl
Mara Frazier
Lauren Hodgson
Sonia Hu
*Eiko Ishizuka
*Michael Joviala
Cynthia Lilley
Guy Mendilow
Anthony Molinaro
Stephen Neely
Fumi Nakayama
Dawn Pratson
Gregory Ristow
Josh Ryan
Danica Schoefer
Sarah Schreffler
Emma Shubin
*Jack Stevenson
Brian Sweigart
Melissa Tucker
Leslie Upchurch
Joe Williams
*Indicates the presenter holds a Diplôme Supérieur