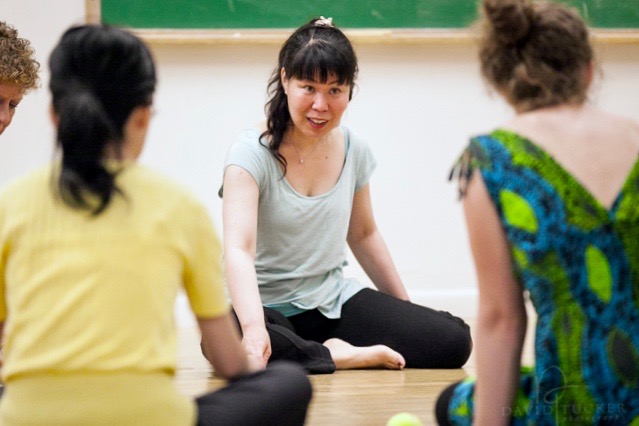 Eiko Ishizuka in Conversation with Melissa Tucker
This interview was conducted May 11th, 2021
Melissa Tucker: In 2019 you earned the Diplôme Supérieur, the highest level of Dalcroze achievement, from L'Institut Jaques-Dalcroze in Geneva, Switzerland. Along with Eri Inoue, Sachiko Muranaka and Kayo Nakaaki you are one of only four Japanese women to attain this credential. Tell me about your first experience of Dalcroze.
Eiko: When I went to Kunitachi College of Music in Tokyo, there was a demonstration of eurhythmics and I couldn't miss the opportunity to see what it was all about. It was a simple activity. Ten students, I believe, were moving on the stage. Professor Ezaki was showing an exercise that involved bouncing, catching, and tossing the ball, along with locomotor movement. I was so inspired by the students who were expressing such joy in performing the activity. At the moment, I didn't know what this was, but I felt like I wanted to try this because it looked like fun. I liked moving, I liked to use the ball, and I wondered how I could pursue this.
Then I met Akihiko Mabuchi [the first Japanese Diplôme] who is the biggest inspiration of my life for the Dalcroze path. I became closer to him and studied more and more after I graduated. He talked about Geneva and Lisa Parker. He talked about how Dalcroze Eurhythmics is not only for education but can be applied to theater production, therapy, and, of course, it has a lot to do with self-expression too. In your early twenties, you don't know what to do with yourself. You want to do music, but you say to yourself. "Well, there are so many pianists around, and I'm not going to be as good as Martha Argerich, [so] what will I do with my passion for music? How can I use it?" So, I took more and more classes with Akihiko Mabuchi. He is the one who really taught me about being music and moving with the music.
During college at Kunitachi, I was studying to be a performer, working on piano, theater, and composition. I also wanted to gain more skills and learn how to use my body. So, I took a part time job in order to take ballet, modern and jazz dance classes. Since my parents told me I couldn't do that, I didn't have any support on the movement side because they were supporting me enough for music. Yet this was my passion since I was little and I wanted to do it. Of course, the girl's dream was to be in a tutu, but I never got a tutu. A leotard, yes.
Akihiko Mabuchi was focused on choreography and plastique animée. At the time, I was more interested in combining all of the arts: music, movement, theater, composition. He told me about Dalcroze's productions in Vienna and I was very fascinated to learn that Dalcroze can be very broad. I didn't have to think of piano as separate from the other arts, but explore Dalcroze and see where it might lead me.
Melissa: At this time in the U.S., racial tensions are in the foreground, as I'm sure you are aware. There have been attacks on Asians in various parts of the country. What is your current experience as a Japanese woman living and working in the states? Do you have concerns in this area?
Eiko: Honestly, I have no concerns. I actually don't look at people in regard to the color of their skin or the language they speak. Of course, everyone looks different, but that is not how I see other people. Yes, I identify myself as Japanese, but I don't identify as American or Asian, I identify myself as Eiko. So that's why when it comes to racial issues, I don't see nationalities, I see individuals. What is important to me is a person's heart, their passion, and how they communicate.
I don't focus on the thought of being in danger due to those who express Asian hate. Of course, I know I'm Asian, and I influence my fellow Asian students because of my role at Longy. In Boston, we have many Asian communities and especially in the Dalcroze community we have a lot of Asian students from Japan, Korea, and a growing number from China and Southeast Asia. I don't know if I am being a good example, but if people look up to me, I would be very grateful. All I can say is that I don't look at people in regard to the color of their skin.
Melissa: The COVID-19 global pandemic has had a significant impact around the world. Many lives have been lost. All of us have been touched, and continue to be touched, on some level. Dalcroze is a group experience, yet we have had to social distance from each other. How do you think the pandemic has affected Dalcroze education, both negatively and positively?
Eiko: Yes, it has been very challenging for all of us because our education involves spontaneous reaction and due to the time delay online, that was not possible. Within this two-dimensional communication, I cannot see the student's whole body. I can only see from the front, or in some cases, just the head. We sense a lot from body language when we teach. For the students, too, they are on Zoom and of course they see, but it's not really natural for human beings to always stare at a screen.
I think the social aspect is very challenging, but some aspects are positive. For example, using the mute feature, some students can practice while another student is playing or moving. In this way, we were able to use time efficiently. Distance learning enabled us to keep teaching and learning. We couldn't stop our life. We had to keep our life going. So, I'm grateful, at least, we had the opportunity to keep students progressing in their Dalcroze studies during this difficult situation.
When the pandemic is over, I think we will appreciate being with other people even more. I recently began teaching in person with young students who I had just met a year ago. We were wearing masks, but there was such joy in being together. We can say, "You know what? Today I met Melissa in person, wow!" I also believe Dalcroze education will be one of the ways we can more fully feel ourselves as human beings; as who we really are. I'm looking forward to the days that come.
Melissa: Me too! How do you envision the future of Dalcroze?
Eiko: I think this pandemic has taught us a lot about what is important for us as human beings. The element of human connection within music and movement, in real time, will become stronger. The Dalcroze way of education and self-expression—having a place where you can truly express yourself—will be needed so badly. Also, this pandemic gave us an opportunity to make the world just a little bit smaller because we used to have teachers we heard of, but we would never be able to take lessons or classes with them. Now you can meet through Zoom, or Skype, or any platform, somewhat more easily. So, I think the boundary we had, where people were hesitant to use electronic devices, we cannot be hesitant anymore because we had to use technology, and we are using technology. Somehow, I am more hopeful for our future than I was before the pandemic!
Eiko: I think what I can say is that forming a question is important to each one of us. I don't know what kind of question each individual person has, but sometimes it's scary to follow the question inside you because of all the logistics and obligations involved. If this is what you are really passionate about, however, things will follow you. I still have some hesitation in my life, but I always want to be truthful. Be truthful to what you want to do because you only have one life. I like people to do what they love to do. If that's music, if that's dance, if that's some expressive art, even if it's not in your language, that's okay, whatever it is. Sometimes I hear my high school students say, "I would like to do music, but maybe I should do science because that's more the way in this society." I always tell them, "If music is what you are passionate about, that's what you're going to do". Often people say, "Oh, I'm too old," or too young," but I don't think passion has any age limit.
Melissa: That's a beautiful thought to end with: to follow your passion and not be limited by your situation, your language, your age, or societal expectations. You should be able to take a step toward something that really matters to you; to follow your dream. As you, Eiko, have been continuing to follow the question, "What is Dalcroze?" Now you are hoping to answer this question for others. Thank you so much, it's been such a pleasure speaking with you.
Eiko: Thank you, Melissa.