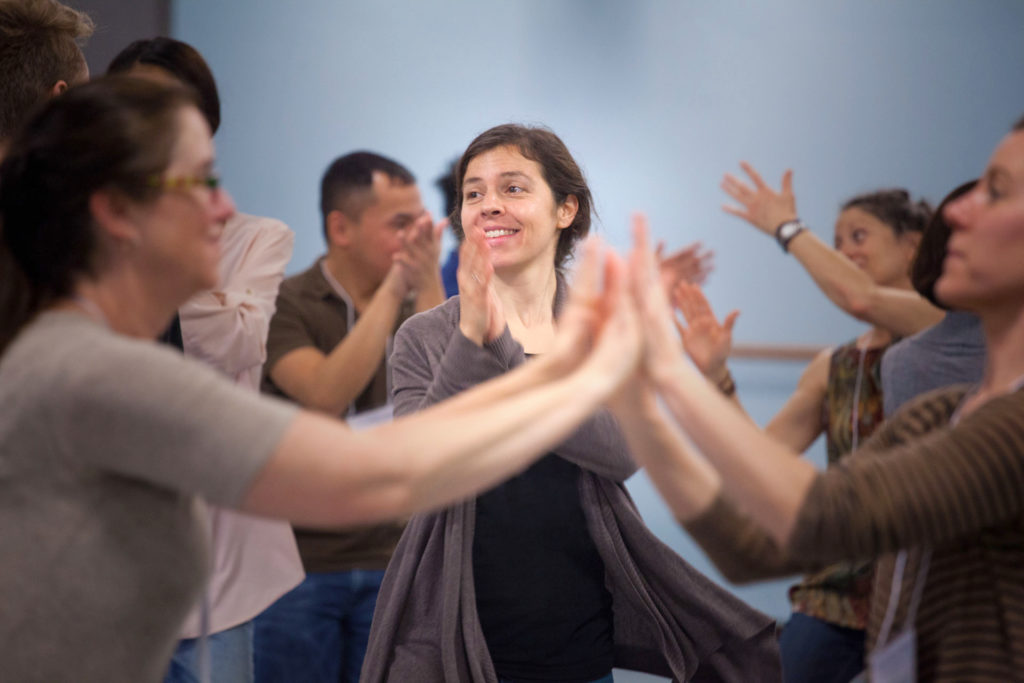 2022 National Conference: Postponed to January 2023
It is with heavy hearts that we announce the postponement of the 2022 Dalcroze USA National Conference to January 2023.
When we began planning this event 18 months ago, we knew it was possible that the current COVID-19 climate could necessitate postponement. Along with Baldwin Wallace University and the BW Community Arts School staff, we've been monitoring the situation closely—and have made the difficult decision to postpone January's in-person event.
We feel a responsibility to keep our community safe, especially with people joining us from all over the country. According to data compiled by the New York Times, Cuyahoga County (our conference site) currently has among the highest COVID-19 case rates per 100,000 in the US. Additionally, due to concerns over the new Omicron variant and holiday travel, a number of American institutions have either elected to go remote for the early portion of the spring semester or have pushed back their start dates.
We know that this announcement will come as an enormous disappointment, not only to our attendees and presenters, but also to the global Dalcroze community. This was a tough call to make, especially since our community has so few opportunities to be together in this way.
The conference will now take place in January 2023 at Baldwin Wallace in Berea, OH. Stay safe, and we look forward to being TOGETHER again soon.
Conference Registration and Refunds
By default, we will carry over all paid registrations to the 2023 event, which will take place around the same time and at the same location as originally scheduled.
However, we recognize that some would prefer a refund and to re-register. As stated in the cancellation policy, full refunds are available to all registrants. To request your registration be cancelled and refunded, please submit this form. (The funds will return to your original payment method within 5–10 days.)
For a small arts organization like Dalcroze USA, planning a conference like this is a massive undertaking— especially financially. If you are able, we hope you will consider donating a portion of your original registration fee to help offset these costs. You can visit this donation page.
Dalcroze USA Virtual Afternoon
For those of you who would still like a bit of Dalcroze that weekend, we're putting together an afternoon of talks and presentations by presenters originally scheduled at the conference.
Join us Saturday, January 15 from 1:00pm–4:00pm ET to participate in several virtual sessions. It's free to attend, and we'd love to see you there. Please register in advance.
What's next?
We hope to see you at the 2023 conference! The Baldwin Wallace University Community Arts School has graciously extended their hosting invitation into the future, so when it is safe again to do so, we hope to still see you in Berea, OH. We will email you as soon as we have more information.
Otherwise, we are planning several virtual events for the spring through our DALCROZE LAB program. You can learn more about the process and pedagogy of Dalcroze Education from anywhere—with virtual presentations by master teachers from around the world. Visit dalcrozeusa.org/dalcrozelab for more information.
Closing words
Having spent the past year preparing for the conference with our National Events Committee with the support of the Board of Trustees, we are genuinely disappointed not to be able to host you at this time. We thank all of our Dalcroze USA community for their support, open discussions, and encouragement about creating an inclusive, vibrant conference. We look forward to seeing you together—soon.
Questions? Send us an email at conference@dalcrozeusa.org
Best wishes,
Alex Marthaler
Executive Director
Lauren Hodgson
National Events Committee Chair
Anthony Molinaro
Board Chair