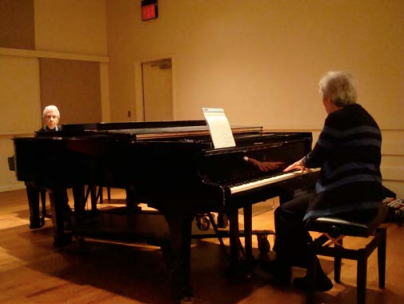 A Conversation With Anne Farber, Lisa Parker and Michael Joviala
Anne Farber and Lisa Parker have been close colleagues in the classroom and on the concert stage for over 30 years. In January of 2014, I sat down to talk with Anne and Lisa on the eve of a weekend of TriState DSA workshops. The series included a presentation to New York area Kodaly, Orff and Dalcroze teachers by Lisa and a session by Anne on the use of improvisation in the private lesson.
The culminating event was hotly anticipated by many of us in the area: a chance to hear Lisa and Anne in a revival of their famed four-hand improvisation duo.
Our conversation from 2014 follows.
---
Michael: I would like to talk about your partnership, and we might as well start at the beginning.
Anne: 1974.
Lisa: Kent State. Someone put us together in a suite. That's how we met. It was a National Conference.
Anne: I came with Bob [Abramson]. I had just graduated from the Dalcroze School. I met Lisa and we just clicked.
Lisa: We really hit it off. I was teaching there, and I remember one comment you made after the lesson. You said, "I never moved like that in my life". I was teaching on fives or something. That was a priceless comment.
Anne: It was a revelation. I was Hilda's [Schuster] student. My primary Dalcroze experience was with her. I studied with Bob, and I learned a tremendous amount from him: piano and improv… he really gave me permission to do things in ensemble. I was already an improviser but he pulled it into Dalcroze.
Michael: What do you mean he gave you permission?
Anne: He gave me permission to set up improv ensembles, which I hadn't thought of doing before. He made me feel that I could bring my improvisation into a Dalcroze class.
Michael: You told Lisa you had never moved like that. Moved like what? Can you remember?
Anne: [long pause] No. [laughter].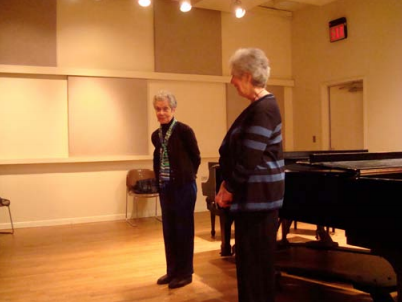 Lisa: Hilda's use of movement was quite utilitarian without much address to style or general use of the body as an expressive instrument.
Anne: Yes. Very skill oriented. I had been a dance accompanist for years, so I wasn't new to movement, but something about moving to this very specific improvised music was new. It seemed to be connected to me. It's fun to move to recorded music but you don't feel the same connection. You don't feel that the music is doing something in relation to you.
Michael: Did Hilda use recorded music?
Anne: No. I'm thinking about kids moving to the radio or recorded music. Hilda didn't use recorded music.
Lisa: Hilda's music was wonderful.
Anne: She was a fabulous improviser.
Lisa: She really was.
Michael: Are there any recordings?
Lisa: No, I don't think so. She was very concerned with secrecy.
Anne: We couldn't even take notebooks into the room.
Lisa: Or pencils. We all used to run to the bathroom to write everything down: one was responsible for the first exercise, another for the second.
Michael: Wow! So, you met in Kent State, hit it off and then what? Was it, "My dad's got a barn, let's put on a show?" How did Longy start?
Lisa: I was actually going to start the program with Melinda Haas. And Melinda, who now lives in New York and works as a psychotherapist, got a job in the dance department in Florida just when we were ready to start. She couldn't pass up the offer, and as I was bemoaning this fact Anne said, "I'll come up."
Anne: I had a bi-urban life. I came up to Longy for three days, and back to New York for the rest of the week.
Lisa: And Les was alive then.
Anne: Yes. Les died in 1981.
Michael: How old were your kids then?
Anne: They were 20, 19 and 18. So that was no problem.
Michael: So you were teaching in the same program. How did you get students?
Lisa: I had a group of over 25 students from The Belmont Music School, where I had been teaching for a long time. Before I ended up at Longy, I had thought of the New England Conservatory, but I felt like I wouldn't be able to be a free agent there so I decided on Longy. Of course in those days, you actually could be a free agent. No longer! But those were wonderful years of being able to build a program.
Michael: So who decided the curriculum at Longy?
---
Members of the Dalcroze Society of America can can read the full article online, which was originally published in the Summer 2014 issue of The American Dalcroze Journal, Vol. 40, No. 3.
Not a member? Join instantly online.