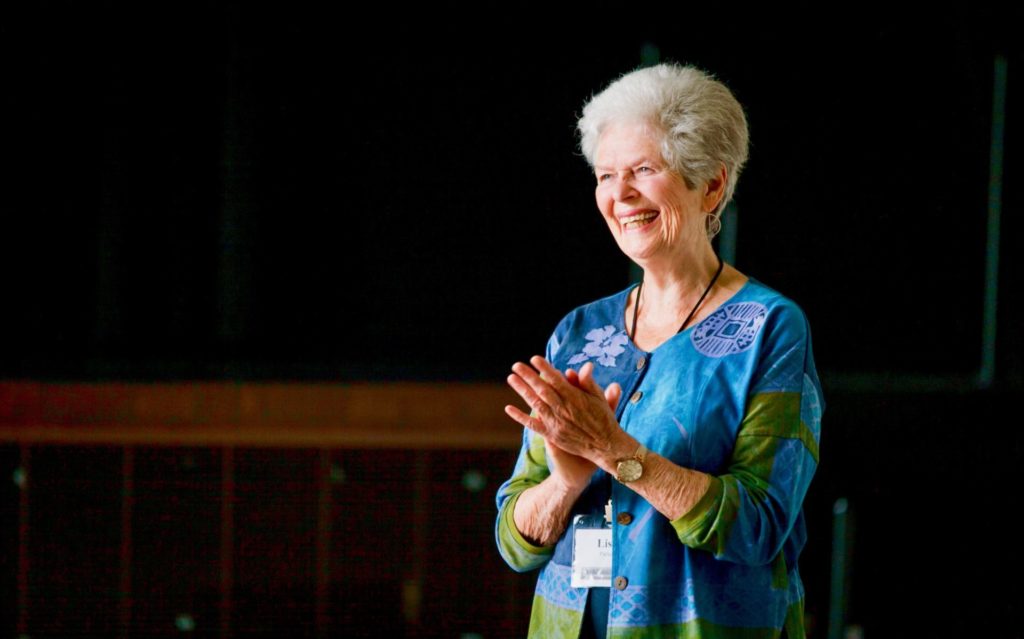 Call for Submissions: Remembering Lisa Parker
On October 7, 2022, we lost an extremely valuable and inspirational member of our community, Lisa Parker. Many people from around the country and the world have special memories of their time with Lisa, as her work touched many of us.
Below is a memoriam written by two of Lisa's former students, Jeremy Dittus and Emma Shubin:
On behalf of Lisa Parker's family, we would like to let our beautiful community know that Lisa passed away at 11:25pm on October 7, 2022 a few weeks after her 88th birthday. She died peacefully at her daughter's house in Maine after a two-year journey with a neurodegenerative disease. She was surrounded by her loved ones, especially her daughters, son in law, grandchildren, and beloved cat. The family really wanted to be able to reach out to each person she has touched, but as we know, it is almost impossible to reach all those she loved and who loved her, so we wanted her Dalcroze and musical community, friends, and loved ones to know. A celebration of her life will be forthcoming – it will be as amazing as she was and still is.

Lisa Parker received her Dalcroze training at the New York Dalcroze School under Dr. Hilda Schuster. In 1965 she earned the Diplome, the highest degree in Dalcroze studies at the Institut Jaques-Dalcroze in Geneva, Switzerland. She is a graduate cum laude of Smith College and received a MM from New England Conservatory of Music in Orchestral Conducting. She was conductor of the New England Conservatory Youth Singers for six years.

Lisa was a member of the Longy School of Music faculty since 1977, when she was invited to introduce Dalcroze Eurhythmics to the school. Eurhythmics classes were taught to the professional students as well as to children. In 1978 she developed Dalcroze Certificate, Dalcroze License, and a Master of Music degree programs in Dalcroze studies. This unique program is known throughout the Dalcroze world and draws students from many countries. She directed her program until 2017. In 2003 Lisa was awarded the first George Seaman award for excellence in teaching at the Longy School of Music.

Lisa Parker was one of the leading international teachers and trained countless Dalcroze teachers from North America and Asia. She has given workshops in Dalcroze Eurhythmics in many European countries as well as Canada, Australia, Israel, Japan and Taiwan. She has taught at every International Congress at the Institut Jaques-Dalcroze since 1979. She is a frequent workshop leader in workshops all over the USA.

Lisa was a past president of the Dalcroze Society of America and former editor of the American Dalcroze Journal. She remained active within the DSA, was on the Board of Advisors and served as chair of the elections committee in both 2008 and 2010. In 2018 Lisa received a Lifetime Achievement Award from the Dalcroze Society of America for her unparalleled contributions to the Dalcroze community at home and abroad.

Jeremy Dittus and Emma Shubin, October 8, 2022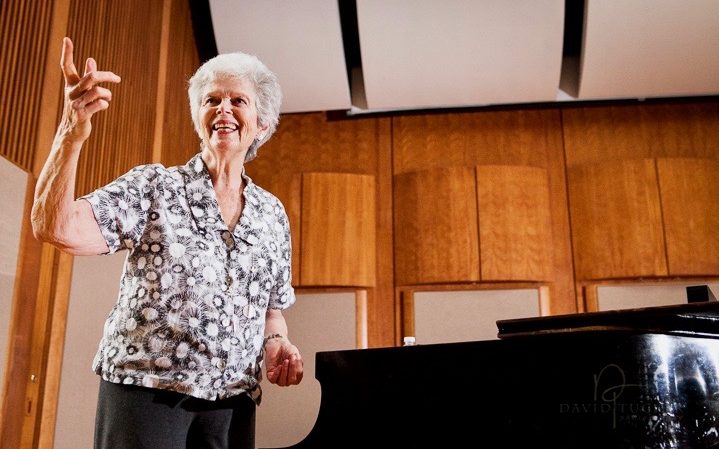 We invite you to also help us honor Lisa's memory by sharing a short remembrance of your time with Lisa, to be published in the next edition of Dalcroze Connections. Please send your submissions to editor@dalcrozeusa.org.
A memorial service for Lisa Parker will be held in the spring of 2023. Contributions in Lisa's memory may be made to the Dalcroze Society of America.
---
The DSA thanks the many Dalcroze educators who have changed lives through their work.