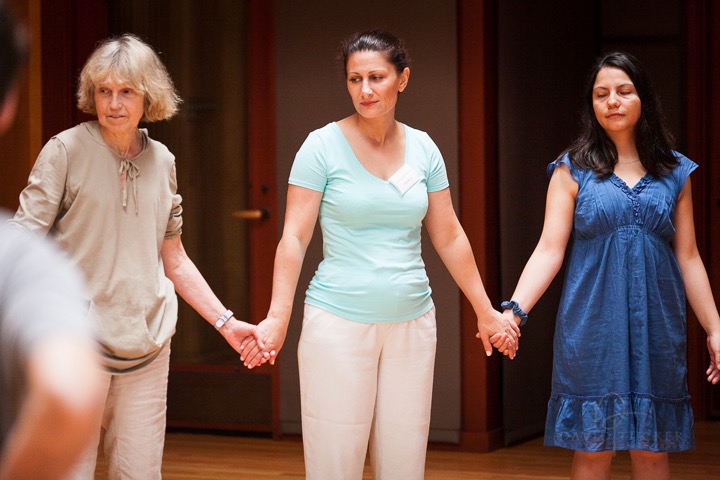 Dalcroze in USA: E Pluribus Unum
Fiercely independent thinking.
It may well be a key characteristic, if not a distinguishing feature, of our DSA membership. Or should I say, more precisely, of each of its participants.
I'd go so far as to suggest there are ways we might even think of the DSA as the ultimate "anti-club": we each pursue distinctive perspectives to such a degree—and resist any tendency toward "groupthink"—that it has been challenging at times for us to reach agreement on various aspects of our practice, even some of the more fundamental aspects. Challenging, yes. But not impossible.
One might argue that, in general, people drawn to so unconventional a practice as ours would inherently derive their sense of identity more from being free thinkers than from defining themselves as members of any particular group. I've noticed this quality in members of other "anti-clubs." The Society of Friends, aka Quakers, for example, or Waldorf Educators, inspired by the writings of Rudolf Steiner.
I reckon it a byproduct, if not the main product of the Enlightenment. After all, it was the possibility of forming a free society envisioned by Jean Jacques Rousseau and others of his milieu that indirectly spawned the ethical, aesthetic, and epistemological ideas behind these approaches to human development, which in turn inspired Johann Heinrich Pestalozzi—the cultivator of our practice's pedagogical roots. Our vision of the USA as a pluralistic, diverse society that not only tolerates difference, but indeed, rejoices in it, too, stems from these seeds. And we Americans have taken to individual autonomy with a vengeance!
But this admirable trait is not without its drawbacks. Recently, for example, an intriguing question came up: To what rights and privileges does the Dalcroze Certificate entitle its holder? In other words: What does this document authorize its bearers to do and claim regarding their qualifications to practice Dalcroze Education? This is not a new question, by any means; but it is significant that the DSA, thanks to the work of its Professional Development Committee (PDC), has been crafting a better-formed, more constructive answer. That said, as of now the American Dalcroze Teacher Training programs do not adhere to a single, consistent definition of the credential. But then, neither do our counterparts in the international community of practice. At least, not yet.
Some Background
It's worth taking a moment to consider how we got here. In conferring the terminal degree in the practice—the Diplôme Supérieur, or simply, the Diplôme—the Institute Jaques-Dalcroze (IJD) in Geneva grants each of its representatives the authority to define the credentials as he or she sees fit. Therefore, each Dalcroze Diplômé has the authority to formulate a definition of the rights and privileges to which the bearer of his or her Dalcroze Certificate is entitled, and, by extension, the limitations within which that particular Dalcroze Certificate holder must operate.
This state of affairs, in turn, issues from an arrangement the estate of Émile Jaques-Dalcroze has made with the IJD, whereby the former exclusively authorizes one and only one body in the world to administer teacher training in the educational practice developed by its founder: le Collège of the Institute Jaques-Dalcroze. Unlike other eurhythmics programs or societies in the United States, the DSA Board of Trustees acknowledges the authority of the Collège to administer Dalcroze Education on behalf of the Jaques-Dalcroze estate, and, more importantly, in the founder's name—literally.
One might argue that, in general, people drawn to so unconventional a practice as ours would inherently derive their sense of identity more from being free thinkers than from defining themselves as members of any particular group.
But with this acknowledgement comes a challenge. No doubt out of respect for each qualified Dalcroze practitioner's personal artistry and expressiveness, the Collège embraces a surprisingly wide range of ways a Dalcroze practitioner may interpret and realize the practice's foundational principles and values in his or her work as a teacher, musician, and artist. As IJD Director Silvia Del Biano has so aptly put in more than one interview, "We do not have recipes."
Such openness to divergent thinking makes Dalcroze Eurhythmics difficult to regulate uniformly, leaving the practice vulnerable to misunderstanding and, yes, misinterpretation (it is possible to stray too far afield of the premises), especially by those who have not dug deeply into the elements that make it such a highly context-sensitive practice, such as its oral traditions and tacit knowledge. In the abundance of distinctive ways each of us may implement this complex, integrated system of teaching and learning we are faced with an embarrassment of riches.
On even the most sympathetic of allies, such breadth and depths of scope across the various practitioners and training programs offering this approach can make a manifold impression bordering on chaos. However, I personally believe that, in the final analysis, the benefits of granting a truly creative Dalcroze interpreter the freedom to infuse his or her teaching with the dynamic force of his/her individual character far outweigh the costs we bear as a community of practice. How many people share this opinion? I wonder.
Ultimately, it is the holder of any valid Dalcroze credential who must enforce his or her own fidelity to the practice, in honor of the mentors who have passed this oral tradition and this tacit knowledge on to him or her. As authorized Dalcroze practitioners, at whatever level of teacher training, we bear the responsibility of sustaining the practice and its integrity. And there is an implicit trust that those entrusted with the responsibility of training teachers, the bearers of that tradition and knowledge, will not water the practice down by certifying individuals who are unprepared to honor it in like manner.
As long as there are relatively few sources for Dalcroze teacher training in the United States, this idealistic honor code might suffice (although the relative paucity of opportunities for exposure to the practice presents another problem). But one can imagine a time in the not so distant future when we will wish we had shored up our collective sense of standing together on common ground, even if we don't speak in a unified voice. Fortunately, the DSA is actively taking measures to perform this very function for the community of practitioners here in the USA.
How We May Move Forward Together
Working on behalf of a consortium of American Dalcroze Teacher Training Programs, the DSA is developing ways to support existing and future teacher training programs in the critical functions they serve in the USA (administering examinations, conferring credentials, and defining what the holders of credentials can and cannot claim and do). The DSA's Professional Development Committee, made up of American experts in the field of Dalcroze Education, has been charged by the DSA's Board of Trustees to forge a consensus on the guidelines and criteria for Dalcroze teacher training as conducted in the USA. The work in progress has resulted in a Dalcroze Education Teacher Training Manual which the DSA just made available to the membership on the DSA website.
Moreover, the American Dalcroze Teacher Training Programs have begun to coalesce around the promise this manual holds for their participation in an accreditation process that the DSA endorses, with the blessing of the IJD's and the Collège, as well as the American Diplomates, each of whom are representatives of those international bodies on these shores. Once the DSA puts such an accreditation process in place, it will be well positioned to determine what programs, or what individual educators, are or are not in compliance with the guidelines and criteria set forth in this manual.
Regarding the Dalcroze Certificate, in answer to the questions posed earlier, the credential's strength depends on the degree to which practitioners, teachers, institutions, and professional organizations recognize it and respect the limitations it places on its holders, as well as the powers it bestows upon them. It is of interest, then, to see how the DSA's Professional Development Committee Dalcroze Teacher Training Manual defines this credential:
The Dalcroze Certificate (Level 3)

• The holder of The Certificate in Dalcroze Education has passed all of the examinations pertaining to the introductory, applied, and certificate levels in Dalcroze Education.
• This internationally recognized credential affirms that the holder is a Dalcroze teacher and grants the authority to offer introductory coursework in Dalcroze Education.
i. The Certificate in Dalcroze Education prepares a teacher to teach students of any age up to an early-intermediate level.
ii. The Certificate in Dalcroze Education prepares the teacher to incorporate Solfège and Improvisation into a eurhythmics class rather than offer independent Solfège and Improvisation courses in Dalcroze Education.

(from the PDC Dalcroze Training Manual, 2015)
To return to my earlier point, then, it is clear that, even as it has posed challenges, our diversity has been a source of strength. And by leveraging the diversity of perspectives our membership offers to enrich our consensus, we're moving in a healthy direction.
There are ways our new signature publication, Dalcroze Connections DSA highlights and benefits from this multidimensionality. For this reason, you will find member contributions that present a wide diversity of opinion and vantage points. And yet, as you will see from the point of view Silvia Del Bianco expresses in my conversation with her, there is room enough in this house for the building of a consensus about what we do and how we do it. Changes that are taking place here in the USA are also manifesting at the global level of articulation. In this regard, Silvia's vision is especially resonant with the DSA at this historic moment in its evolution. We may never achieve perfect unity, an elusive goal in any event, and one that would not reflect the pluralistic character of our practice.
It's hard to say what form the organization will take as a result of the emerging consensus about our practice. Still, we can feel some measure of comfort in knowing that, as we forge stronger connections across our differences, the framework we're erecting together will be robust enough to encompass our wide diversity of opinion and perspective, and empower us to benefit from the multidimensional community of which we are all a part.
---
This article was originally published in the Fall 2015 issue of Dalcroze Connections, Vol. 1 No. 1.