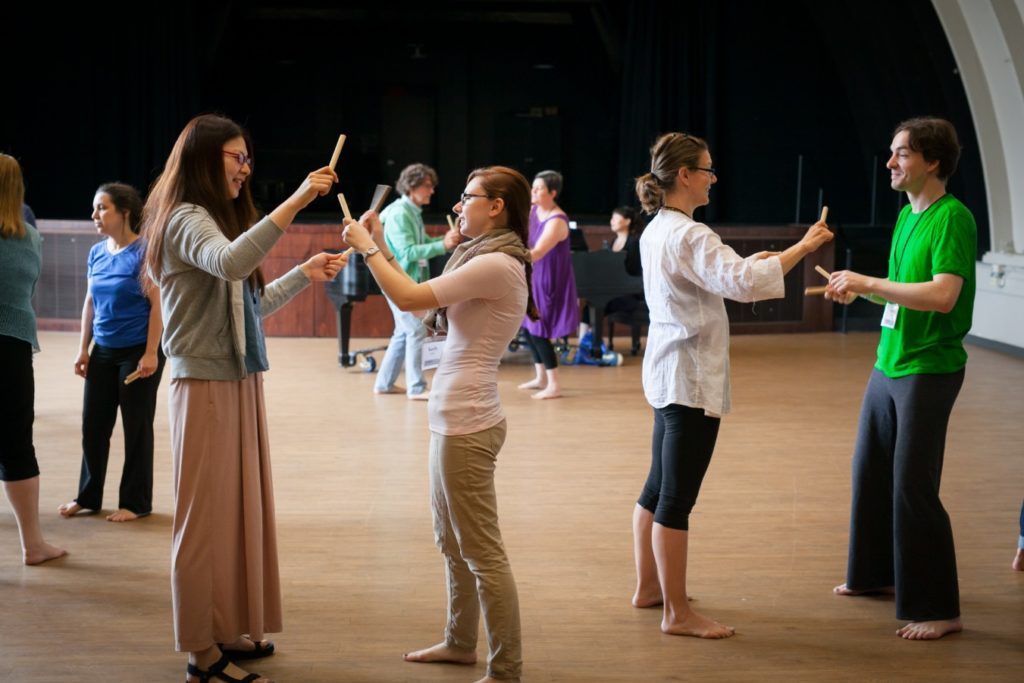 Last week, we featured "Options for Improvising" from legendary Dalcroze teacher Herbert Henke (1931-2015).
Today, we are remembering his legacy by sharing reflections of this influential and unforgettable American master teacher. (These reflections were shared following his death in 2015.)
Herb Henke was a giant not only in his appearance but most importantly in his humanity. He was a treasured friend and colleague, an outstanding musician/educator, and a valued mentor.

Being with Herb was being with a force of nature. When teaching, he was the essence of a facilitator, the wizard behind the curtain. The only time I remember Herb being the center of attention was during the farewell sessions of our CMU three week workshops. Herb would quietly walk to center stage, sit down, wait for the music to begin, then, with the impeccable timing of the great silent movie comedians, perform his 'take' on Mozart's Rondo Alla Turca. This always elicited hysterical laughter, amazement, amusement, and sheer joy at witnessing this aspect of Herb's persona. It is a moment forever etched in memory.

Words are not sufficient to describe this complex, gentle man whose wisdom, droll sense of humor, and ability to "cut to the core" of a situation kept him above the fray. Herb was my Solomon for problem solving.

Dr. Jody Kerchner, former student, later colleague of Herb, now Professor & Director of Music Education at Oberlin wrote this for the Memorial Minute at Oberlin in honor of Dr. Herbert Henke. "Our deeds that imbue simplicity, quietude, humility, and perseverance can be so powerful as to indelibly stir those with whom we engage" To me, this says it all.

Dr. Annabelle Joseph, Pittsburgh, PA
I first met Dr. Herb Henke when I was a senior at Carnegie Mellon University. I was finishing work on my Dalcroze certification. Herb was a professor of Music Education at the Oberlin College Conservatory of Music but treated me as an equal. We even took a walk one evening to "talk shop" at one of our Dalcroze conferences. Besides Herb's congenial manner, I was so impressed with how he went about maintaining integrity in his work. Casting aside the notion that teachers who teach teachers cannot themselves teach, he spent sabbaticals teaching school children music in various countries. He noticed trends in how singing was changing, once lecturing about this at a Dalcroze conference. I remember that he said children were singing jazz or popular chord progressions more easily in choruses than he had first encountered when teaching.

Herb was a gentleman. I found him to be so charming. To this day I chuckle about the story that his wife, Sabra, fainted in his arms while dancing on their first date! We were partners-folk dancing when he shared this touching story.

Herb was a great champion of Dalcroze work. His vast knowledge of music was evident in his pedagogy and interpretations of music. One example is that he taught "Frère Jacques" anacrusically, starting on beat 3 in 4/4 time. This is completely in sync with the French prosody. I recently unearthed a book "Songs and Silhouettes" by Laura Pendleton MacCartney where "Frère Jacques" was notated this way. It is ironic that this beginner's piano book is the only time I have seen a printed version of Herb's interpretation.

Herb was also one to share useful information. We became colleagues at the Marta Sanchez Dalcroze Training Center (MSDTC) at Carnegie Mellon University in 2003. I could ask him for advice or for a critique if he had seen me teach. He was quick with a compliment or suggestion for improvement without ever being judgmental. Knowing how to help each other is not easy in this sometimes slippery slope that is Dalcroze teaching.

Certificate candidates in the summer program are required to play for a gesture as part of their exam. Herb was the faculty member who performed the gesture and he always did this so effortlessly and elegantly. The past couple of years I have performed the gesture. I realized how much Herb's influence shaped my approach to this. I keep his example in mind, hoping to honor his memory.

Leslie Upchurch, New York City, NY
In this world there are persons who stand out in a certain field but their personality betrays them and they become unbearable. On the other hand, there are persons with extraordinary qualities as artists who at the same time possess unique attributes as human beings. That is the case with Herbert Henke.

I met Herbert in 2002 when he went to Monterrey, Mexico, to give a workshop organized by my wife, and since she was very busy with the details of the event, I had the opportunity to talk to him very much. He was a very tall man with a silhouette similar to Don Quijote, the emblematic character of Miguel de Cervantes. Since the first moment I saw him teaching, I observed his high quality as a musician and teacher, taking all the students by hand to the wonderful world of Dalcroze Eurhythmics.

A couple of years later in 2004 I was his student for three weeks at the CMU summer workshop. As the orchestra conductor, this experience of having Marta Sanchez, Annabelle Joseph and Herbert Henke as my teachers that summer became a landmark in my conducting career. I knew I was being taught by icons of Dalcroze Eurhythmics and Music Education in general.

In Herb´s improvisation classes I noticed the way he got the best from his students. On one hand he was a very strict teacher, and on the other a very sweet person. I remember him as a serious man with wise judgment. He had a deep and melancholic appearance, but at any time could make a joke to make the atmosphere lighter.

"Hasta la vista caballero" You have left us an example for life…

M.A. Guillermo Villarreal, Monterrey, Mexico
Additional reflection on Herb can be found on the Oberlin website, in an article by Michael Chipman, called "For the Love of Teaching."
---
The DSA thanks the many Dalcroze educators who have changed lives through their work. Please, tell us about the educators who have inspired you or consider a donation to the DSA to support their legacy.