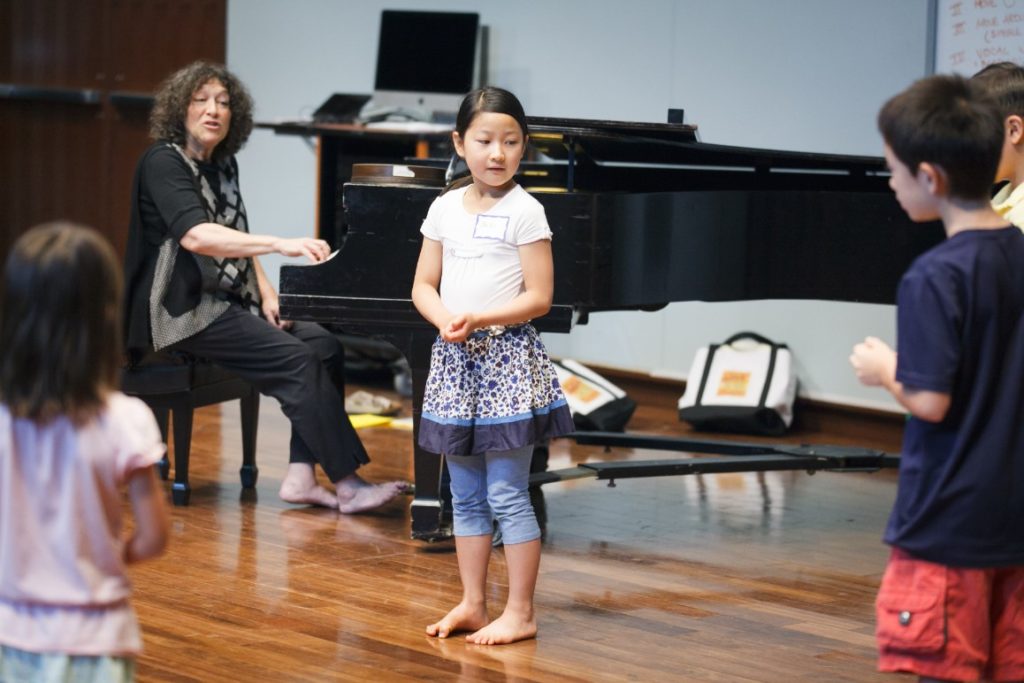 Dalcroze Education for Youth: Subcommittee Update
Current Work
The Dalcroze Education for Youth Subcommittee is comprised of members of the DSA's Professional Development Committee. We (Adriana Ausch, Jeremy Dittus, Leslie Upchurch, and myself) have been meeting to discuss and organize common goals for Dalcroze students in the 4-7 year old age range.
While our meetings began a few years ago with a literature review of other Dalcrozian publications about working with this age group, we quickly found that there could be quite a bit more current resources for Dalcroze teachers of 4-7 year olds.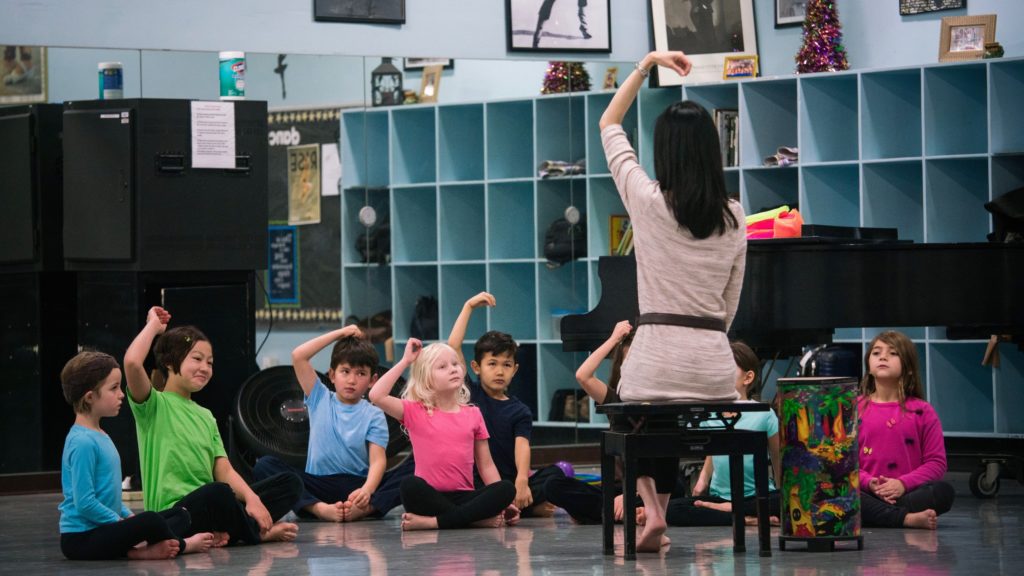 Music/Movement Goals
One aspect we have started to organize is feasible music and movement goals for Dalcroze students aged 4-7. The following is a list of goals based not only on our literature review but also on our personal experiences in working with this age group:
Locomotor Movements (Continuous Movements)

Beats and/or medium tempi
Divisions and/or faster tempi

Run, tiptoe, trot, jog, prance, les cloche-pieds (step-hop), etc.

Multiples and/or slow tempi

Slide, stride, lunge, etc.

Typical compound meter rhythms

Beats: swing, sway, skate, etc.
Divisions: gliding &, running &, tippy-toes, etc.
Uneven patterns: gallop, chassé, skip, etc.

Other creative movement possibilities:

hop, jump, roll, crawl, slither, bounce, swim, float, creep, sneak, leap, glide, sail, fly, etc.

Patterns (these can be challenging for this age group, but here are some you might try):

Trotting-March! (e.g. )
Running-Running-Running-JUMP! ( e.g. )
Turn-a-round-FREEZE! ( e.g. )

Chassé Chassé ( e.g. )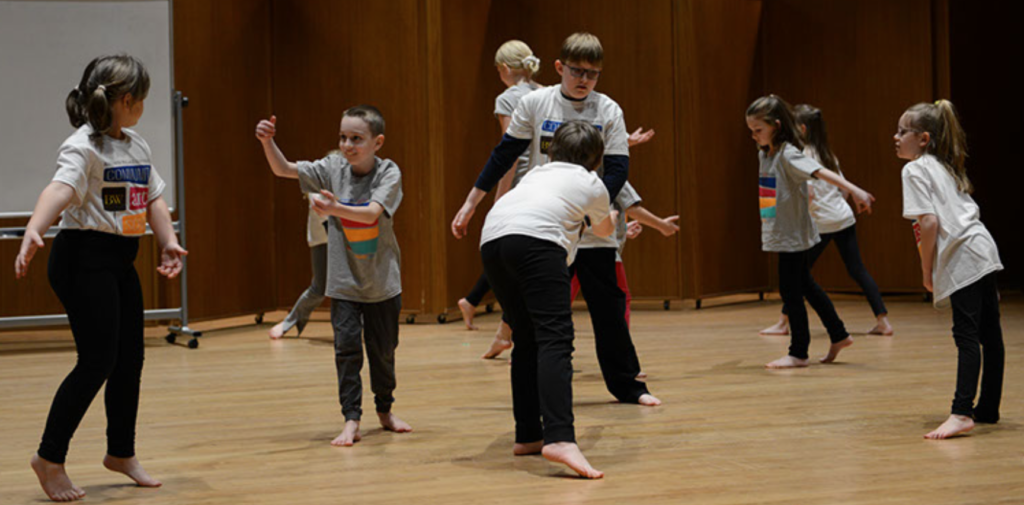 Movements in Place

Patsch/tap, clap
Sway, rock
Twist, turn, spin, twirl
Sink, melt, shrink,
Rise, grow, stretch,
Wiggle, shake
Bend/straighten, contract/extend
Push/pull
Gestures (with a variety of body parts)

Body percussion
Use the body to designate melodic contour
Use the body to designate rhythms
Use the body to designate meter
Etc.

NB: Some locomotor movements can be done in place and vice-versa
Expressive Movement/Movement Quality

Sense of Direction/Intention: forwards, backwards, sideways, etc.
Imaginative Movement (moving like a character/animal, etc.)
Dynamics and Expressive Qualities:

Strong/Gentle
Rigid/Supple
Heavy/Light
Smooth/Jagged
etc.

Texture: Thick/thin
Use of Materials/Props to Facilitate Movement

Balls, scarves, bean bags
Percussion: claves, rhythm sticks, drums
Others: ropes, scarves, elastics, parachutes, floor markers, hoops, ribbon wands etc.
This is not a comprehensive list for Dalcroze practitioners; our goal in creating this was simply to give newly-certified teachers a place to begin when searching for movement inspiration in their lessons with 4-7 year olds. One of the great aspects of Dalcroze work is that it is constantly evolving, and this list can surely evolve as well. Do you have any comments or suggestions? Please leave a comment below if so!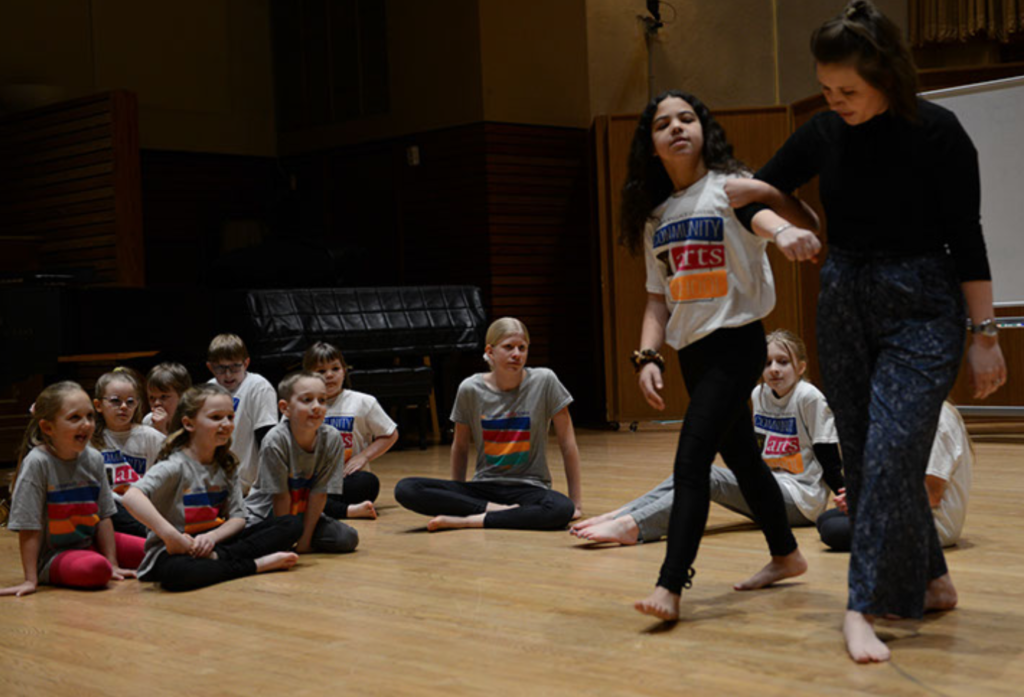 Database of Activities
Another big component of our work is in creating a database of activities for 4-7 year old Dalcroze students. We have recently created a form in which veteran Dalcroze teachers (those who hold at minimum the Professional Certificate and have taught 4-7 year olds for a number of years) are asked to share detailed exercises for this age group. The collection of activities can be sorted by area (eurhythmics, solfège, improv, Plastique Animée, etc.), Dalcroze principle (including body as instrument, active listening, social interaction, and more), and Dalcroze teaching strategy (including association, inhibition/incitation, systemization, and more), among other factors.
As we collect activities from our community, we will build them into a searchable database for DSA members. The goal is for one to be able to search by area, principle, strategy, or other elements. The activities that one might discover could include specific verbal directions, a score or recording, or even an image. It all depends on the data that we collect from our veteran teachers!
We aim to release the first version of this database in January 2024, and will be sure to update the DSA community as we work towards this exciting members-only resource!