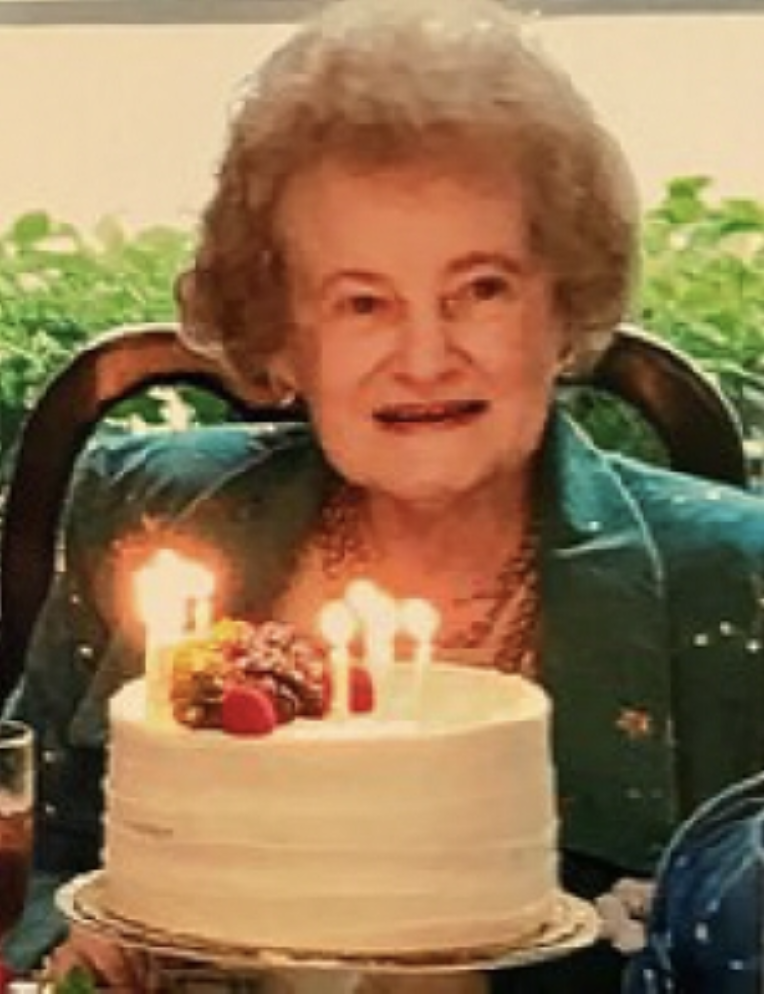 ​Remembering Virginia Hoge Mead
"The study of Eurhythmics develops the inner ear which makes us musically imaginative, which guides the hand that plays the instrument, the voice that sings, the body that moves, and further develops the ears that hear."

Virginia Hoge Mead (1930-2020)

Revered Dalcroze Educator Virginia Hoge Mead passed away on Saturday, February 22, 2020 in Sugar Land, Texas. She had just turned 90 years old. She was born in Pittsburgh, Pennsylvania on January 31, 1930 and grew up nearby in Crafton, PA. Since 2000, Ms. Mead had been living in Brookdale First Colony, near Houston.

Virginia's devotion to music began early and never faltered. She began piano studies when she was seven years old. She graduated from Oberlin Conservatory in 1951 and later earned her Masters in Music Education from Indiana University.

Virginia started her teaching career at the private girls' school, Louisville Collegiate. She also served as the Assistant Director of the Louisville Philharmonic Chorus, and this organization sponsored her study of choral conducting at the Tanglewood Music Festival. She taught at Gary Indiana High School, teaching general music classes and directing the mixed Chorus, and later taught elementary and secondary classes in public and private schools. After teaching undergraduates at Muskingum College, Ohio, she taught Music education courses and Dalcroze Eurhythmics full time at Kent State University from 1963 until her retirement as Professor Emerita in 1988. She also developed her own parent-child Music/Movement program called "Music-Go-Round."

It is likely that Virginia got her first exposure to Dalcroze Eurhythmics from Inda Howland, who taught on the music faculty of Oberlin while Virginia was attending. In the late 1960s, Virginia earned her Dalcroze License in studies with Hilda Schuster. She led many one-day workshops and was possibly the earliest Dalcroze teacher to teach in the People's Republic of China, where she led classes for adults and children in 1982. She served as President of the Dalcroze Society of America during the early 1980s, which is when I met her—at my first DSA National Conference in 1984. I remember her as a gracious, down-to-earth spirit who offered me encouragement at the start of his journey into the Dalcroze approach. 
Virginia published research on Dalcroze Education, including two books: "Encountering the Fundamentals of Music" and Dalcroze Eurhythmics in Today's Music Classroom." The latter volume, published in 1994, "was written to help teachers understand and adapt Dalcroze techniques in the teaching of music. Part One introduces Jaques-Dalcroze, the musician and teacher, and explains the three main areas of his approach – eurhythmics, ear training, and improvisation. Part Two covers the use of 'games' and exercises and their intended purpose at different levels in the junior school." While she was not active during the last two decades, those who knew her felt her presence through her ongoing support of the DSA. She was one of our guiding lights and will be missed.
Annabelle Joseph reflects back on her presence:
Virginia Mead wasn't an "I" person–she was a "we" person. Virginia had the innate ability to connect with those around her at the moment whatever the situation and wherever the location around the globe!  

Thinking back on all that she accomplished is really quite incredible–especially since she did it all in such an unassuming way. Yes, she was a remarkable woman and a great role model for all who knew her.
I hope you will join me in celebrating her life and her work. If your life was one of the many she touched, please consider sharing your reflections in the comments of this blog.
For more detail, see Tribute Archive.
See also "More than Mere Movement: Dalcroze Eurhythmics," Music Educators' Journal (February 1, 1986; reprinted: January 1, 1996).
"All music learning begins with perceiving or hearing of sound, then as student responds in some way the mind begins to grasp bits of understanding and the student is ready to actuate or create his own music by either performing, improvising or composing."

Virginia Hoge Mead
---
The DSA thanks the many Dalcroze Educators who have changed lives through their work. Please, tell us about the educators who have inspired you or consider a donation to the DSA to support their legacy.